Abby Cadabby is a Sesame Street/Muppet character. She is a three year old fairy in training, who has a habit for turning things into pumpkins. She goes to the Flying Fairy school, where she learns how to use her powers. Abby first appeared on Sesame Street in 2006, and became one of the show's most popular Muppet characters. She usually gets paired up with Elmo.
Abby first appeared in 2006 on the 123 Sesame Street float (the year it rained).
In 2007, Abby had her own balloon which appeared after the Sesame Street float (Replacing Big Bird and Super Grover) and the balloon retired after the 2009 parade. The Sesame Street float Is now preceded by a non-muppet balloon (such as Diary of a Wimpy Kid, Hello Kitty, Harold the Policeman, Kung Fu Panda, and Thomas the Tank Engine.)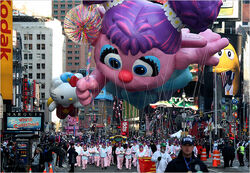 Incidents
In 2007, when she made her debut as a balloon, her wand stick became detached for an unknown reason.
Music
Sesame Street end credits (2007-2009)