Finn and Jake are fictional characters from the hit Cartoon Network series, Adventure Time. The two brothers live in the Land of Ooo, where they battle monsters, save princesses, and just hang with their friends. Finn happens to be the only surviving human on Earth after the events of the Mushroom War. Jake is his adoptive brother, who can stretch into any shape.
Appearance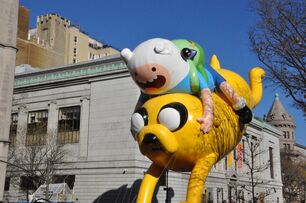 Finn and Jake first appeared in the parade in 2013. The balloon retired after the 2015 parade. They were the second balloon in 2015.
Balloon
87th (November 28, 2013)
88th (November 27, 2014)
89th (November 26, 2015)
Music
Adventure Time Theme Song (2013-2015)
Ad blocker interference detected!
Wikia is a free-to-use site that makes money from advertising. We have a modified experience for viewers using ad blockers

Wikia is not accessible if you've made further modifications. Remove the custom ad blocker rule(s) and the page will load as expected.