Aflac Duck is the mascot for the insurance provider, Aflac Incorporated. He first appeared in the parade as a balloonicle in 2011. The Sled version of Aflac Duck was retired in 2013 and replaced with the Ice Skating version in 2014.
There is a new Aflac Duck balloonicle that was first introduced In 2014. He has made 6 appearances so far.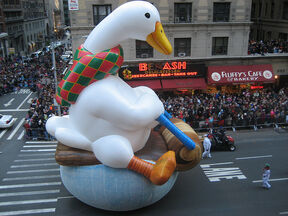 Aflac Duck On The Sled (2011-2013)
Aflac Duck On The Ice Skating (2014-present)
Sled
85th (November 24, 2011)
86th (November 22, 2012)
87th (November 28, 2013)
Ice Skating
88th (November 27, 2014)
89th (November 26, 2015)
90th (November 24, 2016)
91th (November 23, 2017) (Coming Soon)
Ad blocker interference detected!
Wikia is a free-to-use site that makes money from advertising. We have a modified experience for viewers using ad blockers

Wikia is not accessible if you've made further modifications. Remove the custom ad blocker rule(s) and the page will load as expected.