Babar is a french children's character created by Jean de Brunhoff for the story Histoire de Babar, where he, becames King of the Elephants and marrying his cousin Celeste.
Babar debuted in the 65th Macy's Thanksgiving Day Parade in 1991, where he was the only new balloon to debut that year, and was the grand finale due to him being the Macy's Holiday Ambassador, and with that a plush toy was released to Macy's stores. Babar returned as the second to last character balloon in the 1992 Parade. Babar was the last balloon to make use of the large Hot Air Balloon shaped balloon which had been used for many years and characters, like Elsie the Cow and the Chipmunks.
Costume Character Appearances
In 1991, the costumed versions of Babar and Celeste appeared in the parade in a car, but not near the balloon though.
In 2011, Babar the Elephant appeared in 85th Parade Superstars Float.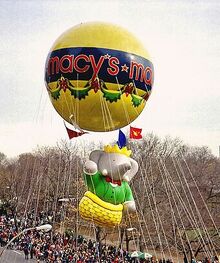 Ad blocker interference detected!
Wikia is a free-to-use site that makes money from advertising. We have a modified experience for viewers using ad blockers

Wikia is not accessible if you've made further modifications. Remove the custom ad blocker rule(s) and the page will load as expected.