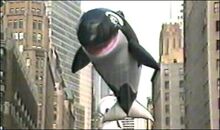 Baby Shamu is an orca (killer whale) that appears in several stage shows at the SeaWorld theme parks. Since the original Shamu debuted in the late 1960s, numerous orcas performed under the Shamu name over the course of 40-plus years, until SeaWorld ended its orca breeding program in 2016.
Baby Shamu led the SeaWorld float that ran for three years, from 1986 to 1988.
Ad blocker interference detected!
Wikia is a free-to-use site that makes money from advertising. We have a modified experience for viewers using ad blockers

Wikia is not accessible if you've made further modifications. Remove the custom ad blocker rule(s) and the page will load as expected.