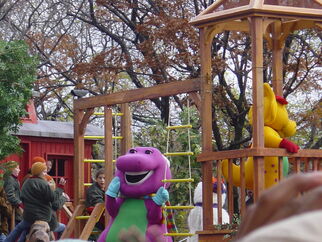 Barney & Friends
is the name of a 1992 PBS children's television show that is based on the title character of
Barney and the Backyard Gang
.  ==Float== Since 1995, the Barney characters have appeared on Carts or Floats.  *
Barney's Circus Cart (1995)
*
Barney's Westward Ho! Wagon (1996)
*
Barney's Great Adventure-The Movie (1997)
Performed
Imagine
*
Barney's Gingerbread House (1998)
Performed
If All the Raindrops
*
Barney's The Night Before Christmas (1999-2001)
Performed
Christmas is Our Favorite Time of Year
(1999),  a mixture of different Christmas songs (2000) and
I Love the Holidays
(2001) *
Barney's Playtime in the Park/Barney's Musical Playground (2002-2004)
Performed
Colors All Around
(2002), The Best Manners Medley (
Please and Thank You
and
Good Manners
) (2003) and
It's C-C Cold BRRRR!
(2004) ==Balloon==
Main article: Barney the Dinosaur

04:44

Barney the dinosaur was killed in Thanksgiving parade!

Barney was also a balloon as well, having first appeared alongside the Cat in the Hat in the 1994 parade. The same year, it hit a lamppost and tore its side open. No one was injured. In the 1997 parade, Barney was one out of several balloons "killed" thanks to high winds, lampposts, the NYPD, blown up heads, and massive destruction. In Barney's case, he got pulled into a street lamp, made a hole in his belly, and got stabbed by the NYPD. The balloon had to get repaired so it could fly again in the 1998 parade. Eventually, the popularity of Barney's Great Adventure: The Movie allowed it to fly for the fifth time. It did, and for four years, made it through the parade route without hassle.  In 2003, a blue and gold hat was added to the balloon, as well as a new pose. Two years later, Barney almost got blown away, and ripped his foot open. The character wasn't seen in the next parade after this. == Barney (Regular) == * November 24, 1994 (first appeared in the Parade; second balloon) * Novemver 23, 1995 * November 28, 1996 * November 27, 1997 (not seen) * November 26, 1998 (second Balloon) * November 25, 1999 (Last Balloon) * November 23, 2000 * November 22, 2001 (second to last Balloon) * November 28, 2002 == Strike Up the Band == * November 27, 2003 (first balloon) * November 25, 2004 * November 24, 2005 (last appeared in the Parade) ==== *Barney (regular) (1994-2002) *Strike Up the Band Barney (2003-2005)
Ad blocker interference detected!
Wikia is a free-to-use site that makes money from advertising. We have a modified experience for viewers using ad blockers

Wikia is not accessible if you've made further modifications. Remove the custom ad blocker rule(s) and the page will load as expected.