Big Bird is a popular character on the children's television show Sesame Street. Performed by his original Muppeteer Carroll Spinney since the show's premiere in 1969, he is an eight-foot two-inch tall, primrose yellow bird believed to be a canary, who represents the psychological attributes of the 6-year-old child. He has a wide array of talents, being able to skate, sing, dance, write poetry, and even ride a unicycle; but is also curious and tends to question everything, and has frequent misunderstandings, such as singing the alphabet as a big long word whose meaning he tries to ponder. He lives in a large nest behind the "123 Sesame Street" brownstone building.
History with the Macy's Parade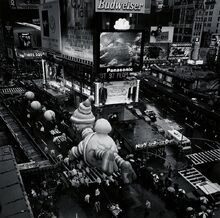 In the Macy's Thanksgiving Day Parade, a Sesame Street float has appeared in various iterations since 1974, and Big Bird has appeared in person on all of the floats in that series, along with most of the show's other characters. Additionally, two balloons of Big Bird have been made. The first, used from 1988 to 2000, featured him wearing a striped sweater and a winter cap with numbers on it. When its stitching frayed, it got patched many times and its handlers got exhausted, so they decided to replace it with a new balloon featuring alphabet cymbals, no clothing on, and a scarf on his neck. The Big Bird balloon was ultimately retired in 2006.
Music
"Sesame Street Theme" marching band arrangement (1988-1993)
"Sesame Street Theme" calypso credits arrangement (1994-2006)
Gallery
Ad blocker interference detected!
Wikia is a free-to-use site that makes money from advertising. We have a modified experience for viewers using ad blockers

Wikia is not accessible if you've made further modifications. Remove the custom ad blocker rule(s) and the page will load as expected.