Big Bird is the six-feet tall popular yellow character on the television show Sesame Street. Big Bird is a very curious six year old bird, and he is learning new things on Sesame Street every day. The costumed muppet first made an appearance in 1974 on a Sesame Street float and has remained on there in the Macy's parade ever since aside from the television series.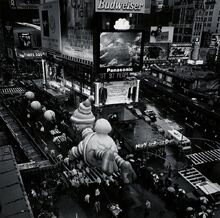 The 1988-2000, version was Big Bird in a striped sweater with a winter cap with numbers on it, fitting with the show's educational value. When it's stitching frayed, it got patched many times and it's handlers got exhausted, they decided to replace it with a new one. 
The 2001-2006 Big Bird balloon features cymbals, no clothing on and a scarf on his neck.   
Music
Can you tell me how to get to Sesame Street? (band) (1988-1993) Sesame Street 1992-2006 closing theme (1994-2006)
Gallery
Ad blocker interference detected!
Wikia is a free-to-use site that makes money from advertising. We have a modified experience for viewers using ad blockers

Wikia is not accessible if you've made further modifications. Remove the custom ad blocker rule(s) and the page will load as expected.