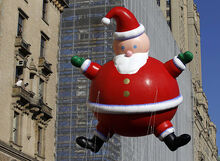 Big Man Santa is a Novelty Balloon. it was named by the former parade runner Robin Hall and it first appeared in 2009 and appeared until 2012, the Universal Orlando Resort's Macy's
Holiday Parade have used him since 2009 and every year since then.
Balloon: Big Man Santa (2009 - 2012) Big Man Santa (2009 - present) Macy's Holiday Parade
Ad blocker interference detected!
Wikia is a free-to-use site that makes money from advertising. We have a modified experience for viewers using ad blockers

Wikia is not accessible if you've made further modifications. Remove the custom ad blocker rule(s) and the page will load as expected.