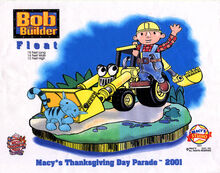 Bob The Builder is a British children Animated series that involves Bob and his crew doing construction work.
In 2001, a float featuring models of Scoop, Bob and Pilchard debuted, and was sponsored by HiT Entertainment. In 2002 the float was expanded to include Muck and Wendy. This float retired in 2004.
Ad blocker interference detected!
Wikia is a free-to-use site that makes money from advertising. We have a modified experience for viewers using ad blockers

Wikia is not accessible if you've made further modifications. Remove the custom ad blocker rule(s) and the page will load as expected.