Bugs Bunny is a cartoon character created by Warner Bros. Cartoons and he's known for starring in Looney Tunes. He's also the mascot for Warner Bros. Entertainment. Bugs is a clever trickster, who usually has to outsmart his enemies, such as Elmer Fudd, and Daffy Duck. 
Appearance
He first appeared in the parade as a balloon in 1989. That same year, high winds caused the balloon to be punctured by trees before the parade started, and could not start his march. He made his first actual appearance in 1990 and appeared until the 1992 parade. 
In 1989, Bugs Bunny appeared on the Looney Tunes Float alongside,Daffy Duck, Sylvester, Tweety, Wile E. Coyote, The Road Runner and Yosemite Sam appeared in the float to celebrate his Bugs Bunny's 50th Birthday.
In 1990, The Cast of Tiny Toon Adventures: Buster Bunny, Babs Bunny, Plucky Duck, Dizzy Devil appeared alongside Bugs Bunny on the float that year.
In 1991, The Cast of Taz-Mania: Tazmania Devil, Bull Gator, Axel, and Didgeri Dingo appeared on the float.
in 1992, no Warner Bros. float appeared alongside the balloon.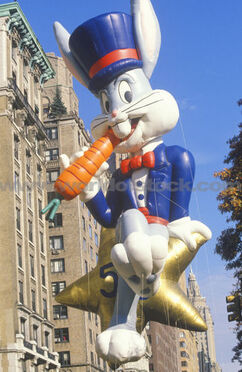 Incident
In 1989,Bugs Bunny was punctured by trees before the parade started and was not seen in the route after that.
Ad blocker interference detected!
Wikia is a free-to-use site that makes money from advertising. We have a modified experience for viewers using ad blockers

Wikia is not accessible if you've made further modifications. Remove the custom ad blocker rule(s) and the page will load as expected.