Buzz Lightyear a Disney/Pixar fictional character from Disney/Pixar franchise, Toy Story. Buzz is a space ranger toy, who was owned by Andy until Toy Story 3. He is best friends with Woody the cowboy, and has a relationship with Jessie the cowgirl.
Appearance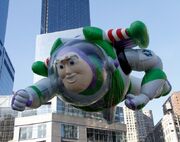 Buzz made his debut in 2008 and retired after the 2013 parade.  
Even though there haven't been any Toy Story films for a while, he still appeared in the parade, due to the franchise having a bunch of spinoff shorts and TV specials.
Incidents
In 2012, Buzz tore a huge hole in his helmet.
Music
Infinity and Beyond (2008-2009)
You've got a friend in me (Jazz remix) (2010-2013)
Ad blocker interference detected!
Wikia is a free-to-use site that makes money from advertising. We have a modified experience for viewers using ad blockers

Wikia is not accessible if you've made further modifications. Remove the custom ad blocker rule(s) and the page will load as expected.