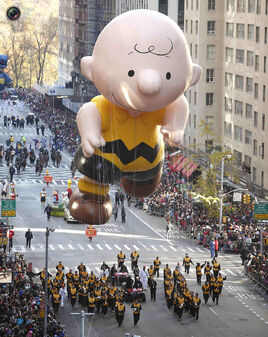 Charlie Brown is the main protagonist from the comic strip, Peanuts, created by Charles M. Schulz. He is a daring young kid, who never seems to have things ending the way he wants them to. However, he never gives up on his goals, no matter what the results are.
He first appeared in the parade in 2002 as a balloon, trying to kick the elusive football that Lucy Van Pelt always pulls away from him, whenever he tries to kick it.
In 2005, Charlie Brown made his last appearance as a balloon.
After 2012, the Flying Ace Snoopy was retired from the parade, leaving Charlie Brown to replace him. The football also came back as well. The next year, an all new balloon of Snoopy and Woodstock made it's debut.
On the Snoopy's Doghouse float, walk around versions of Charlie Brown, Lucy, and Linus (With a metal Woodstock on the Doghouse) were featured on it. When the Charlie Brown balloon returned for the 2012 parade, A walk around Snoopy took his place. When the new Snoopy balloon first appeared, the float was retired from the parade. In 2015 however, he appeared on a new doghouse float, to promote the 50th anniversary of A Charlie Brown Christmas, and the then new Peanuts Movie. 
For the 90th Macy's Thanksgiving Day Parade, a new Charlie Brown balloon will debut, it will feature him with his kite, with the string from the kite all tangled up on him.
The Charlie Brown Balloon lead the parade in 2002 and 2016.
Appearance
Charlie Brown and Football (2002-2005, 2012)
Charlie Brown with his kite (2016-present)
Music
Linus and Lucy Marching Band remix (2002-2005; 2012)
Linus and Lucy (2014-present)
Incidents
In 2004, Charlie Brown almost crashed into a streetlight.
Ad blocker interference detected!
Wikia is a free-to-use site that makes money from advertising. We have a modified experience for viewers using ad blockers

Wikia is not accessible if you've made further modifications. Remove the custom ad blocker rule(s) and the page will load as expected.