Citi field is a baseball field where the Macy's Thanksgiving Day Parade new balloons test flight at since 2014 outside the building. Before that, Balloons were tested at Metlife Stadium.
2014
Thomas the Tank Engine, Paddington Bear, Red Mighty Morphin Power Ranger, Eruptor (Skylanders), Pikachu (3rd Version), Pillsbury Doughboy (2nd Version), and Aflac Duck (2nd Version).
2015
Scrat with his Acorn, Ronald McDonald (4th Version), Angry Birds (Red), and Sinclair Oil Dinosaur (2nd Version)
2016
Charlie Brown (2nd Version), Greg Heffley (2nd Version), Dreamworks Trolls, Trixie the Dog, and Felix the Cat (2nd Version)
2017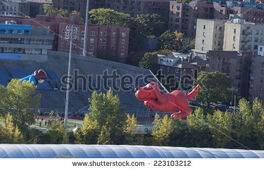 Ad blocker interference detected!
Wikia is a free-to-use site that makes money from advertising. We have a modified experience for viewers using ad blockers

Wikia is not accessible if you've made further modifications. Remove the custom ad blocker rule(s) and the page will load as expected.