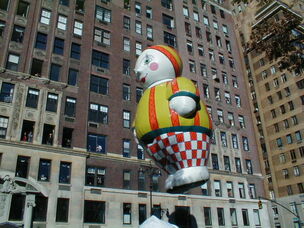 She debut back in 1994 and also known as a classic character, a parade icon. And was one of the many clown balloons.
She retired after the 2003 parade but still flew in the Macy's Holiday Parade at Universal Studios till 2004. A new re-design that first appear leading the 2005 Macy's Thanksgiving Day Parade with a color update, new eyes, and the same look but new. The second version still resides at Universal.
A third version and the latest version which made her debut as a Balloonicle in the 2014 Macy's Parade. The balloonicle is currently at Universal Orlando Resort for the Macy's Holiday Parade.
Balloon
Cloe the Holiday Clown Original (1994-2003)
Cloe the Holiday Clown Updated: (2005-2009, 2011-2012)
Cloe the Holiday Clown Balloonicle: (2014)
Incidents
In 1997,She couldn't fly all at due to the major wind damage overnight, but thankfully, she returned to the parade in 1998.
Ad blocker interference detected!
Wikia is a free-to-use site that makes money from advertising. We have a modified experience for viewers using ad blockers

Wikia is not accessible if you've made further modifications. Remove the custom ad blocker rule(s) and the page will load as expected.