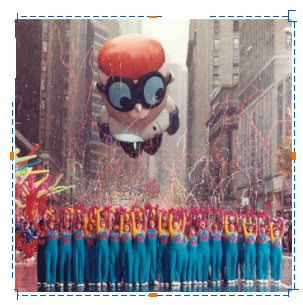 Dexter's Laboratory is a American comic science fiction animated television series created by Genndy Tartakovsky for Cartoon Network. The series debuted in 1996 as the first of the network's "Cartoon Cartoons," and aired until 1999, with a revival of the show airing from 2001 to 2003. The titular Dexter is a boy genius and inventor with a secret laboratory in the basement of his house, who constantly battles the intrusions of his older sister Dee Dee, and engages in a bitter rivalry with his neighbor and fellow genius Mandark. Dexter's Laboratory became one of Cartoon Network's most popular and successful original series, won three Annie Awards, and launched the careers of several cartoonists who went on to bigger things.
Dexter himself appeared as a balloon in the Macy's Parade from 1998 to 2000. He was one of three new balloons in the 1998 parade, the others being Babe the Pig and the Wild Thing. In 2001, he appeared in walk-around form on the "75th Parade Superstars" float alongside many other characters whose balloons in the parade had been retired.
Music
Dexter's Laboratory theme song (Band)
Ad blocker interference detected!
Wikia is a free-to-use site that makes money from advertising. We have a modified experience for viewers using ad blockers

Wikia is not accessible if you've made further modifications. Remove the custom ad blocker rule(s) and the page will load as expected.