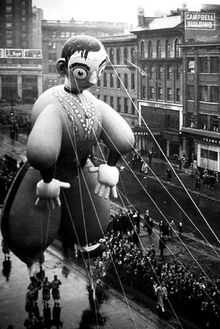 Eddie Cantor was an "illustrated song" performer, comedian, dancer, singer, actor and songwriter on Broadway, radio, film and television, who lived from 1892 to 1964. In a career spanning more than 50 years, he hosted radio shows that told intimate stories and amusing anecdotes of his wife and daughters; and performed many hit songs, including "Makin' Whoopee" and "If You Knew Susie." He was famous for his eye-rolling song-and-dance routines, which eventually led to him being called "Banjo Eyes," a nickname originating from artist Frederick Garner's caricature depicting him with large round eyes resembling the drum-like pot of a banjo. Cantor was also an extensive humanitarian, who named and helped organize March of Dimes. He was awarded an honorary Academy Award in 1956 for distinguished service to the film industry.
In 1934, Cantor made his lone appearance as a balloon in the Macy's Thanksgiving Day Parade, making him the only real-life celebrity to have a balloon likeness in the parade.
Ad blocker interference detected!
Wikia is a free-to-use site that makes money from advertising. We have a modified experience for viewers using ad blockers

Wikia is not accessible if you've made further modifications. Remove the custom ad blocker rule(s) and the page will load as expected.