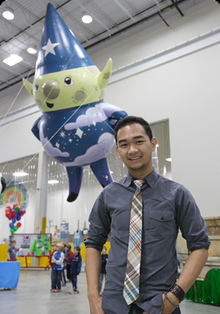 Gazer Elf is an elf balloon that was created by Keith Lapinig for the Macy's All American Design an Elf Balloon contest. Keith won and his elf design was transformed into a balloon for the 85th Macy's Thanksgiving Day Parade.
Gazer's design was inspired by the story of R.H. Macy who chose Macy's famed star emblem after a fateful fishing trip that found him lost at sea. Mr. Macy credited the North Star with guiding him safely back to shore and so he made it the trademark of his New York City store. Aside from the prominent star on his hat, other elements of the design include the shape of the moon on Gazer's face, the New York City skyline on his feet, and the wishing star trail that wraps around his body.
Ad blocker interference detected!
Wikia is a free-to-use site that makes money from advertising. We have a modified experience for viewers using ad blockers

Wikia is not accessible if you've made further modifications. Remove the custom ad blocker rule(s) and the page will load as expected.