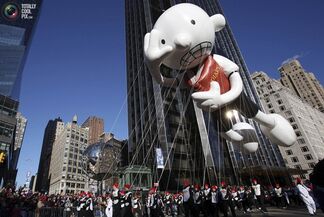 Greg Heffley is a fictional character from a realistic fiction book series, Diary of a Wimpy Kid created by author Jeff Kinney.
 Appearance
Greg Heffley first appeared in the Macy's Thanksgiving Day Parade in 2010 and been in the parade ever since. The original balloon retired after 2015 and was replaced by a new version in 2016 that features Greg in color wearing his winter clothes and is in an upside down pose.
Balloon
84th (November 25, 2010)
85th (November 24, 2011)
86th (November 22, 2012)
87th (November 28, 2013)
88th (November 27, 2014)
89th (November 26, 2015)
Holiday/Winter
90th (November 24, 2016)
91st (November 23, 2017) (Coming Soon)
Ad blocker interference detected!
Wikia is a free-to-use site that makes money from advertising. We have a modified experience for viewers using ad blockers

Wikia is not accessible if you've made further modifications. Remove the custom ad blocker rule(s) and the page will load as expected.