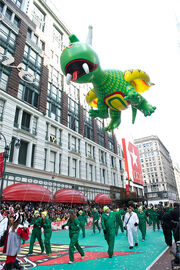 Happy Dragon
is a novelty balloon from the Macy's Thanksgiving Day Parade. Happy Dragon first appeared as a giant balloon in 1960 and retired in 1981. He returned a decade later in 1991 with other balloons that were previously retired, such as Linus the Lionharted and Raggady Ann to celebrate the parades 65th anniversary. He also appeared again in 1992 and he retired that year.
Happy Dragon returned as a novelty balloon in 2012. After a 4 year absence, he returned in 2016 and continues to appear in recent years.
Trivia
Macy's wanted to use the original Happy Dragon balloon from Goodyear that debuted in 1960 in the 2012 parade, but the city of New York wouldn't let them fly the balloon because it was too big for the current limits of balloons, so hence why they made a smaller and newer balloon.
Appearance
Happy Dragon (1960-1981, 1991-1992)
Happy Dragon (2012, 2016-2017)