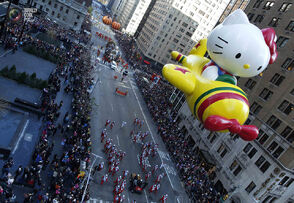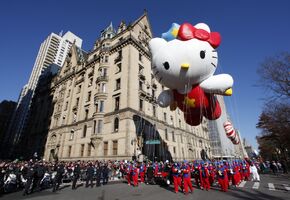 Hello Kitty (also called Kitty White) is a fictional character of Japanese origin, created by Yuko Shimizu and owned by Sanrio. Depicted as a young anthropomorphic Japanese bobtail cat with a sweet, cute, cheerful, and kind-hearted image, she was created in 1974 and has since become a marketing phenomenon, and a staple of the kawaii segment of Japanese popular culture.
Hello Kitty has had two balloons at the Macy's Thanksgiving Day Parade since 2007.
Balloon
Super Cute Hello Kitty (2007-2011)
Airplane Hello Kitty (2012-present)
Ad blocker interference detected!
Wikia is a free-to-use site that makes money from advertising. We have a modified experience for viewers using ad blockers

Wikia is not accessible if you've made further modifications. Remove the custom ad blocker rule(s) and the page will load as expected.