Horton the Elephant is a fictional character from the 1940 and 1954 Dr. Seuss books Horton Hatches the Egg, Horton Hears a Who!, and the television special and movie of the same name of the later book. He made his first flight in 2008 to celebrate the movie.  
Horton was not the only character from Dr. Seuss' books to be in the parade, though. The Cat in the Hat and the Grinch have made appearances, too.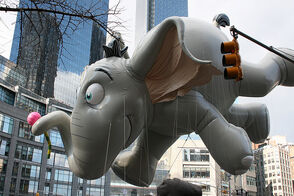 He first appeared in 2008 and retired after the 2011parade.
Ad blocker interference detected!
Wikia is a free-to-use site that makes money from advertising. We have a modified experience for viewers using ad blockers

Wikia is not accessible if you've made further modifications. Remove the custom ad blocker rule(s) and the page will load as expected.