Jimmy Neutron is the main character of the series,The Adventures of Jimmy Neutron: Boy Genius from Nickelodeon and the 2001 film, Jimmy Neutron: Boy Genius. Jimmy debuts in the parade as a balloon in 2001 and also appeared on the Macy's Superstar float along with Garfield, Kermit, Sonic and other characters who had balloons in that same year. The balloon retired after the 2003 parade.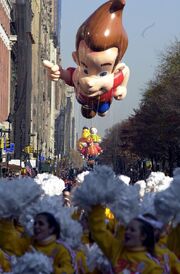 Ad blocker interference detected!
Wikia is a free-to-use site that makes money from advertising. We have a modified experience for viewers using ad blockers

Wikia is not accessible if you've made further modifications. Remove the custom ad blocker rule(s) and the page will load as expected.