Kool-Aid Man
is the mascot for the flavored drink mix brand, Kool-Aid. Kool-Aid Man first appeared in the parade as a balloonicle in 2010 and retired in the 2015 parade.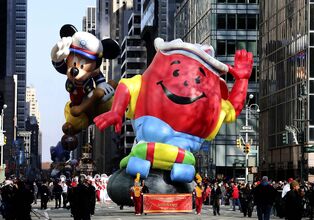 Skateboard
84th (November 25, 2010)
85th (November 24, 2011)
86th (November 22, 2012)
87th (November 28, 2013)
88th (November 27, 2014)
89th (November 26, 2015)
Incidents
In 2011, The Kool Aid Man accidently tipped over when he was being inflated.
In 2014 The Kool Aid Man Almost Hit A Person
Ad blocker interference detected!
Wikia is a free-to-use site that makes money from advertising. We have a modified experience for viewers using ad blockers

Wikia is not accessible if you've made further modifications. Remove the custom ad blocker rule(s) and the page will load as expected.