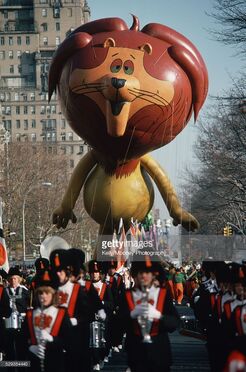 Linus the Lionhearted
 is an American animated television series featuring a main character of the same name. The character was created in 1959, by the Ed Graham advertising agency, originally as a series of ads for General Foods' Post Cereals. At first, Linus was the spokesman for the short-lived Post cereal "Heart of Oats" (a Cheerios imitation). Eventually, the lion was redesigned and reintroduced in 1963, to sell Crispy Critters, which featured Linus on the box. The ads were so popular that a television series was created in 1964 (with General Foods as sponsor), and ran on the CBS network until 1966, then reruns [in color] aired on ABC from 1966, until it was cancelled three years later. In the TV show, Linus was rather good-natured and was nicknamed "King of the Beasts" and he ruled from his personal barber's chair and was voiced by Sheldon Leonard.
The show ended in 1969.
The show was so popular in 1964, that Linus The Lionhearted got a balloon in the Macy's Parade in the same year to promote the show. The balloon became a crowd favourite and because of this, it kept appearing in the parade over a decade after his show ended. He was retired in 1983. But after a 8 year absence from the parade, he returned to parade in 1991 with other parade favourites that were previously retired such as Raggady Ann and Happy Dragon to celebrate the parades 65th anniversary. 1991 was Linus the Lionharted's last flight down Broadway and was retired this year.