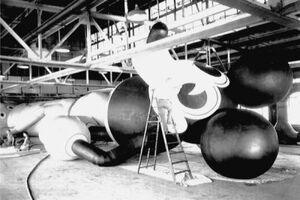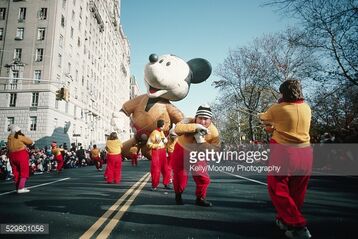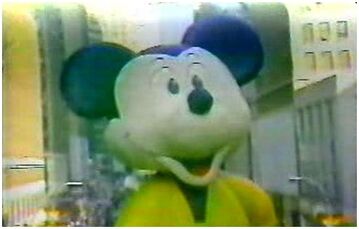 Mickey Mouse is one of the most famous balloon charaters to be in the Macy's Thanksgiving Day Parade. He has gone to four versions.
Mickey Mouse is a Walt Disney character, and also the most popular icon of the Disney studio and franchise.
Mickey was added to the lineup in 1934. This marked the second time that a balloon of an licensed character has been made. 
He appeared again in 1972 with a bit more color and retired after the 1982 parade.
Mickey appeared again in 2000 as Bandleader Mickey Mouse. This time, the balloon lead that year's balloon lineup. It was retired from the parade the same year.
He appeared again in 2005 as a mascot on a float with all the Disney characters for the Disney Parks' 50th anniversary.
Mickey reappeared again in 2009 and retired in 2012 as Sailor Mickey Mouse to celebrate the announcement of the Disney Dream cruise ship (which was sent on its maiden voyage two years later). 
So far, Mickey, Ronald McDonald and Snoopy have become the most popular balloons, with four and seven versions made respectively.

Music
Generic Macy's Music (2009-2012)
The Mickey Mouse Club Theme (70s Remix) (1975-1982)
Balloon
Mickey Mouse (1934-1937)
Mickey Mouse (1972-1982)
Bandleader Mickey Mouse (2000)
Sailor Mickey Mouse (2009-2012)
Mascot
Mickey's 40th Birthday (1968-1969)
Castle Float (1972-1980)
Walt Disney World Tencennial (1981-1982)
Disneyland's 30th Anniversary (1984-1985)
Walt Disney World 50th Anniversary of Disney Park Magic (2005)
External links
Mickey Mouse on the Disney Wiki
Incidents
in 1975 Mickey's Ears Got Ripped By a Street Light
In 1978 Mickey's hand got deflated by a tree
In 1982 Mickey was pushed around by strong winds but didn't got damaged though.
Ad blocker interference detected!
Wikia is a free-to-use site that makes money from advertising. We have a modified experience for viewers using ad blockers

Wikia is not accessible if you've made further modifications. Remove the custom ad blocker rule(s) and the page will load as expected.