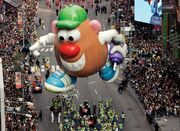 Mr. Potato Head is a toy consisting of a plastic model of a potato which can be decorated with a variety of plastic parts (such as eyes, ears, shoes, hats, noses, and mouths) that can attach to the main body. Invented and developed by George Lerner, the toy has been manufactured and distributed by Hasbro since 1952. Originally produced as body parts with pushpins that would be stuck into a real potato, the toy set has included a plastic body since 1964. The character was later joined by a female counterpart, Mrs. Potato Head, and both appeared in animated form in Disney's Toy Story franchise.
In 2005, Hasbro commissioned a balloon of Mr. Potato Head to be made for the parade, to encourage children to eat right and exercise. This was retired in 2007. While the balloon was not related to his appearance in the Toy Story movies, his co-star Buzz Lightyear spiritually replaced him in 2008.
Ad blocker interference detected!
Wikia is a free-to-use site that makes money from advertising. We have a modified experience for viewers using ad blockers

Wikia is not accessible if you've made further modifications. Remove the custom ad blocker rule(s) and the page will load as expected.