The Nantucket Sea Monster was created for an stunt in Nantucket, Massachusetts back in 1937. The balloon was so popular, it was brought into the Macy's Thanksgiving Day Parade for it's 14th edition. It is the longest balloon ever invented for the Macy's Parade (or possibly any parade!), at 125 feet long.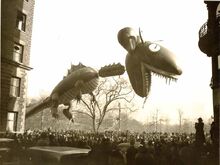 Ad blocker interference detected!
Wikia is a free-to-use site that makes money from advertising. We have a modified experience for viewers using ad blockers

Wikia is not accessible if you've made further modifications. Remove the custom ad blocker rule(s) and the page will load as expected.