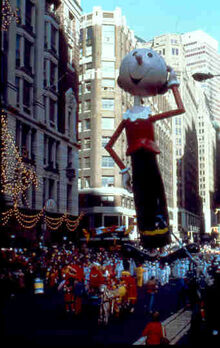 Olive Oyl is a fictional cartoon character created by E.C Segar. She appeared in comic strips and animated cartoons. She first appeared in the parade in 1982 and appeared until 1986. Olive was one of the first ever female characters in the parade.
Balloon
Olive Oyl ( 1982-1985)
Olive Oyl with SweePa (1986)
Appearances
In 1980, she and Popeye appeared in Popeye (1980 Film) Float and promote Popeye (1980 Film).
In 1996, she and Popeye were riding the Rocking Lobster in the parade that year.
In 2001, she and Popeye appeared in 75th Parade Superstars Float.
In 2011, she and Popeye appeared in 85th Parade Superstars Float.
Incidents
in 1985, Olive Oyl was not see in the parade due to hard rain.
in 1986, her arm was ripped off due to the high winds, but her hand holding the balloons on the top of her head remained standing because of it being a separate part to the balloon.
Ad blocker interference detected!
Wikia is a free-to-use site that makes money from advertising. We have a modified experience for viewers using ad blockers

Wikia is not accessible if you've made further modifications. Remove the custom ad blocker rule(s) and the page will load as expected.