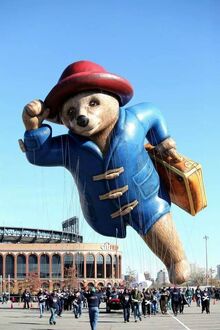 The Paddington Bear Balloon first appeared in 2014 to tie-in with the film "Paddington". He actually appeared in 1990,1991,1992, and 1997 as a Falloon. He was retired after the 2016 parade.
Balloon
88th (November 27, 2014)
89th (November 26, 2015)
90th (November 24, 2016)
Incidents:
In 1997, the Paddington Falloon was blown over by a wind gust and nearly deflated, but luckily he stood back up just in time for his TV appearence.