Red
Believe Stars are the balloons seen at the end of the parade since 2009 replacing the Macy's Red Stars. In 2015 they were redesigned much like with the Macy's Yellow Stars with rounded edges.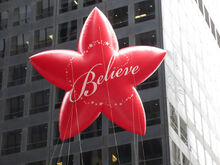 Ad blocker interference detected!
Wikia is a free-to-use site that makes money from advertising. We have a modified experience for viewers using ad blockers

Wikia is not accessible if you've made further modifications. Remove the custom ad blocker rule(s) and the page will load as expected.