Rugrats is a American animated television series for Nickelodeon. Tommy Pickles, Chuckie Finister, and Spike (characters from the series) first appeared in the parade in 1997. They are the first Nickelodeon characters to appear in the parade. In 2000, Tommy Pickles wearing a Baret in the parade and promote Rugrats in Paris: The Movie. The balloon retired after 2001 and the balloon now resides with other retired balloons at Macy's Parade Studios.
Music
Rugrats theme Song (band)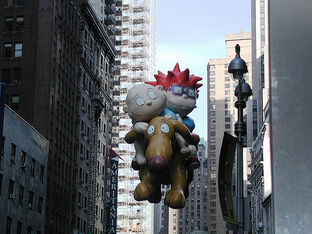 Ad blocker interference detected!
Wikia is a free-to-use site that makes money from advertising. We have a modified experience for viewers using ad blockers

Wikia is not accessible if you've made further modifications. Remove the custom ad blocker rule(s) and the page will load as expected.