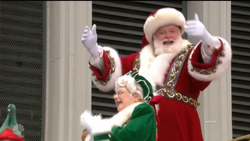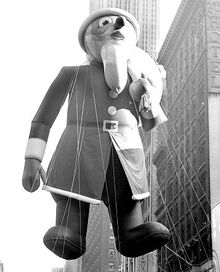 Santa Claus, alternatively named Saint Nicholas or Kris Kringle, is a legendary figure of Western culture and international symbol of Christmas. He is commonly depicted as a portly, joyous old man in a red-and-white outfit who brings gifts to the homes of well-behaved children and children at heart, as determined by lists of people throughout the world whom he categorizes according to their conduct. He delivers presents and candy to every well-behaved person in the world, and coal to all those who have misbehaved, on the night of Christmas Eve; he accomplishes this feat with the aid of his elves at the North Pole, and a sleigh pulled by eight flying reindeer.
Santa Claus has generally appeared at the end of every Macy's Thanksgiving Day Parade since the event's introduction in 1924, with his arrival into Herald Square marking the start of the Christmas and holiday season. At the end of the first parade, the Jolly Old Elf was enthroned on the balcony at the entrance to the Macy's store on 34th Street, where he was crowned "King of the Kiddies." The only Macy's Parade that Santa has not ended is the ninth parade, from 1933, which he instead led.
In addition to his live appearances at the conclusion of the parade, he was briefly given a balloon likeness which appeared in 1939, 1940 and 1941. In 2009 a novelty balloon created by Robin Hall called Big Man Santa debuted and currently appears in the Macy's Holiday Parade at Universal Studios Florida.
Ad blocker interference detected!
Wikia is a free-to-use site that makes money from advertising. We have a modified experience for viewers using ad blockers

Wikia is not accessible if you've made further modifications. Remove the custom ad blocker rule(s) and the page will load as expected.