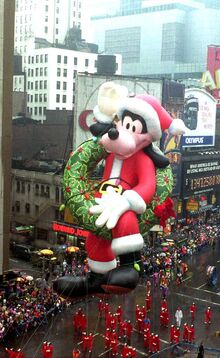 Santa Goofy is one of Goofy's many costumes. This large Goofy balloon only appeared in the 1992 parade to celebrate his 60th Birthday. He also appeared in the Macy's New York Christmas event at Disney MGM Studios that year.
Ad blocker interference detected!
Wikia is a free-to-use site that makes money from advertising. We have a modified experience for viewers using ad blockers

Wikia is not accessible if you've made further modifications. Remove the custom ad blocker rule(s) and the page will load as expected.