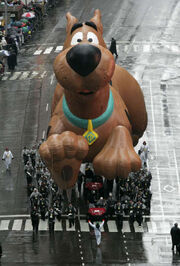 Scooby-Doo is a fictional animated cartoon character who has appeared in various television series since 1969. His original show, Scooby-Doo, Where Are You!, was created for Hanna-Barbera Productions by writers Joe Ruby and Ken Spears, and aired in 1969 and 1970. Scooby-Doo is portrayed as a talking brown Great Dane ― sidekick to teenagers Fred Jones, Daphne Blake, Velma Dinkley, and Shaggy Rogers ― who aids them in solving mysteries involving supposedly supernatural creatures through numerous antics and missteps.
After his original series ended, Scooby-Doo re-appeared in numerous follow-up and spin-off animated series and specials and made-for-TV and direct-to-video movies, produced by both Hanna-Barbera and its absorber Warner Bros. Animation. He has also appeared in two live-action theatrical films. In 2013, TV Guide ranked Scooby-Doo's original series the fifth greatest TV cartoon show of all time.
Scooby-Doo appeared in the Macy's Thanksgiving Day Parade as a balloon from 2005 to 2007, particularly promoting the direct-to-video film Where's My Mummy in his first year, and the show Shaggy & Scooby-Doo Get a Clue! in his other two years.
Appearance