Sinclair Oil Dinosaur
or
Dino
is the mascot of Sinclair Oil. He made his debut in the parade as a balloon in 1963 and retired in 1976. He return to the parade in 2015 as an all new version and was behind the Big Apple float. He was behind the Kentucky Fried Chicken float in 2016. He may retired in 2018.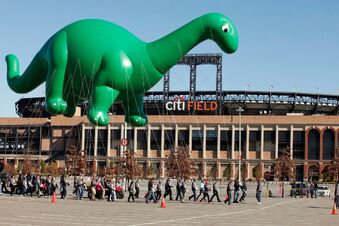 Balloons
Sinclair Oil Dinosaur (1963-1976)
Sinclair Oil Dinosaur (Second Version) (2015-2018)
Ad blocker interference detected!
Wikia is a free-to-use site that makes money from advertising. We have a modified experience for viewers using ad blockers

Wikia is not accessible if you've made further modifications. Remove the custom ad blocker rule(s) and the page will load as expected.