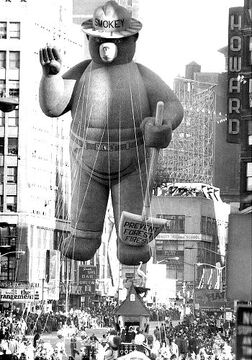 Smokey Bear is an advertising mascot created by Harold Rosenberg for the Ad Council and the United States Forest Service, whose role is to educate the public about the dangers of forest fires. He is recognized by the vast majority of Americans for his trademark slogan, "Remember... only you can prevent forest fires."
Smokey first appeared in the Macy's Parade in 1966 and was retired in 1981, but made a brief comeback in 1993. He later reappeared in a costumed-character version on two special anniversary floats, along with hordes of children's characters represented by past parade balloons: the 75 Parade Superstars float in 2001, and the 85 Parade Superstars float in 2011.
Accidents
In the 1980 parade, Smokey's right foot was deflated.
Ad blocker interference detected!
Wikia is a free-to-use site that makes money from advertising. We have a modified experience for viewers using ad blockers

Wikia is not accessible if you've made further modifications. Remove the custom ad blocker rule(s) and the page will load as expected.