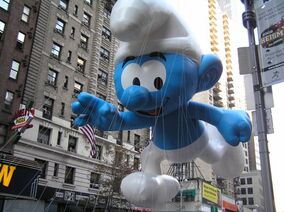 A Smurf is a small, blue creature belonging to a fictional anthropomorphous species created by Belgian comic artist Pierre "Peyo" Culliford. The Smurfs, who live in mushroom-shaped houses in a forest, appear as more than 100 distinct characters, with names based on words that emphasize their characteristics or professions. Though they began as comics characters, they gained a place in American pop culture through an animated cartoon series aired on NBC and produced by Hanna-Barbera Productions.
Macy's Parade appearances
Smurf made his debut in 2008 for the 50th anniversary of The Smurfs comics franchise. The last parade to feature him, the 2011 parade, renamed him as "Clumsy Smurf" to promote these characters' new live-action/CGI feature film which was released that year, where members of the Smurf clan were voiced by actors like Jonathan Winters and Katy Perry.
He also appeared as a walk-around along with his friends Papa Smurf and Smurfette in 2008 on the "Smurfs Mushroom House" float. He was replaced by the Papa Smurf balloon in 2012.
Music
"The Smurf Song (La La Song)" Instrumental (2008-2011)
Ad blocker interference detected!
Wikia is a free-to-use site that makes money from advertising. We have a modified experience for viewers using ad blockers

Wikia is not accessible if you've made further modifications. Remove the custom ad blocker rule(s) and the page will load as expected.