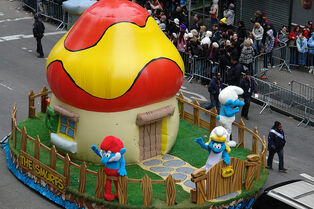 Smurf's Mushroom House is a float that made it's debut in 2008 along with the Smurf balloon. Currently the float precedes the Papa Smurf Balloon.
The float features an inflatable Mushroom house, Making this float a Falloon.
The float also features Smurfette, Papa Smurf, and Clumsy Smurf on the float.
The float is very similar to the Snoopy's Doghouse float. Before You Exit performed on the float during the 2014 parade.
Ad blocker interference detected!
Wikia is a free-to-use site that makes money from advertising. We have a modified experience for viewers using ad blockers

Wikia is not accessible if you've made further modifications. Remove the custom ad blocker rule(s) and the page will load as expected.