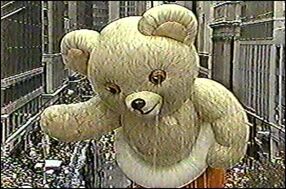 Snuggle Bear is the mascot for Snuggle, a fabric softener sold by Unilever and currently by Sun Products. He first appeared in the parade in 1987, and was retired in 1994. After that, the balloon was redesigned into Eben Bear, an original creation of Macy's, which appeared until 1998.
Ad blocker interference detected!
Wikia is a free-to-use site that makes money from advertising. We have a modified experience for viewers using ad blockers

Wikia is not accessible if you've made further modifications. Remove the custom ad blocker rule(s) and the page will load as expected.