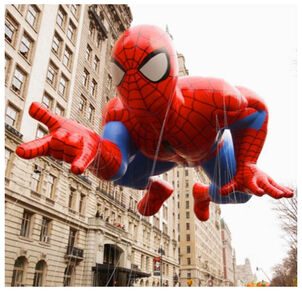 Spider-Man is a fictional superhero appearing in comic books published by Marvel Comics. The character was created by writer Stan Lee and artist Steve Ditko and first appeared in the Amazing Fantasy comic book anthology in 1962. He is characterized by his super strength and agility; and his ability to cling to most surfaces, shoot spider-webs using his own wrist-mounted devices, and react to danger quickly.
Spider-Man is one of the most popular and commercially successful superheroes and has become Marvel's flagship character and mascot. He has appeared in various TV series, a newspaper comic strip, and a live-action film series.
History
Spider-Man was introduced to the Macy's Thanksgiving Day Parade in 1987, to celebrate his 25th anniversary, and appeared until 1998. After a long absence, a second balloon of the character launched in 2009 and appeared until 2014.
In 1993, the original Spider-Man balloon's head was deflated by a tree; in 1997, his right hand was damaged and half the balloon was deflated due to high winds; and in 1998, his belly was deflated so that the balloon could not be moved. The second balloon had its right arm ripped by a Central Park tree in 2013.
Appearances
Spider-Man (1987-1998)
Spider-Man (2009-2014)
Ad blocker interference detected!
Wikia is a free-to-use site that makes money from advertising. We have a modified experience for viewers using ad blockers

Wikia is not accessible if you've made further modifications. Remove the custom ad blocker rule(s) and the page will load as expected.