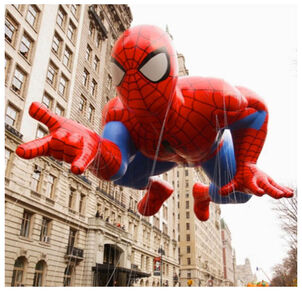 Spider-Man
 is a comic book superhero that appears in comic books published by Marvel Comics. He was introduced to the parade in 1987 and retired in 1998, The second Spider-Man balloon debuted in 2009 and retired after 2014.
Appearances
Spider-Man (1987-1998)
Spider-Man (2009-2014)
Incidents
In 1993, Spider-Man's head was deflated by a tree.
In 1997, his right hand was damaged and the balloon was half deflated due to the high winds.
In 1998, Spider-Man's belly was deflated and the balloon couldn't be moved.
In 2013,Spider-Man's right arm was ripped by a Central Park tree.
Ad blocker interference detected!
Wikia is a free-to-use site that makes money from advertising. We have a modified experience for viewers using ad blockers

Wikia is not accessible if you've made further modifications. Remove the custom ad blocker rule(s) and the page will load as expected.