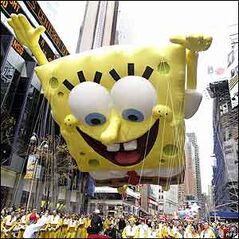 SpongeBob SquarePants is an animated character created by marine biologist Stephen Hillenburg for the Nickelodeon television series SpongeBob SquarePants. Serving as the eponymous protagonist of the series, he is an energetic and optimistic anthropomorphized sea sponge who lives in the fictional underwater city of Bikini Bottom. He works as a fry cook at a restaurant called the Krusty Krab, who goes on various adventures and endeavors with his various friends, including a dim-witted starfish named Patrick and an octopus named Squidward. SpongeBob's show debuted on July 17, 1999 to worldwide critical acclaim, and has since won numerous awards, spawned two feature films, and become the highest-rated series ever to air on Nickelodeon.
History with the Macy's Parade
SpongeBob was introduced to the Macy's Thanksgiving Day Parade as a balloon in 2004, to promote his first feature film, The SpongeBob SquarePants Movie. He was absent from the 2007 parade because of rain and a small accident the previous year. He has appeared in every parade since 2008, though his original balloon was retired in 2013 and replaced with a new one giving him a Santa hat. SpongeBob is the fifth Nickelodeon character to appear in the parade and the first-ever square balloon in parade history. In 2014, he was the last balloon in the parade, promoting his second feature, The SpongeBob Movie: Sponge Out Of Water.
Incidents
In 2004, he was snagged on a lamppost, but was freed.
In 2006, he was once again snagged on a lamppost, but was freed.
In 2010, He got snagged on a lamppost once more, but he was freed.
In 2011, He got snagged on a lamppost again, but he was freed.
In 2012, SpongeBob's right hand and right shoe were deflated because he was not inflated very well.
Balloons
SpongeBob SquarePants (2004-2006, 2008-2012)
SpongeBob with Santa's Hat (2013-present)
Music selection
"F.U.N." song (2004-2013)
SpongeBob SquarePants theme (2014-present)
Videos
Ad blocker interference detected!
Wikia is a free-to-use site that makes money from advertising. We have a modified experience for viewers using ad blockers

Wikia is not accessible if you've made further modifications. Remove the custom ad blocker rule(s) and the page will load as expected.