PBS Kids Sprout first started in 2005. PBS Kids Sprout Daytime, Playtime, Nighttime Too. Debuted in 86th Annual Macy's Thanksgiving Day Parade in November 22nd 2012. Everywhere we go, Kindness.A new Sprout Float named "Free to play" will debut in 2015.They were between the Thomas the Tank Engine balloon and the Paddington balloon in 2015. They may retired in 2017.
Floats
Daytime, Playtime, Nighttime Too. (2012 - 2014)
Free to Play (2015 -2016)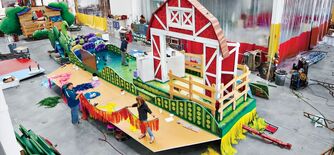 A new sprout Float (2017-Present)
Ad blocker interference detected!
Wikia is a free-to-use site that makes money from advertising. We have a modified experience for viewers using ad blockers

Wikia is not accessible if you've made further modifications. Remove the custom ad blocker rule(s) and the page will load as expected.