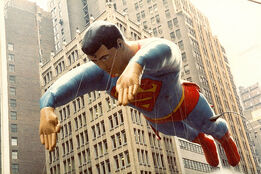 Superman
is a fictional superhero who appears in comic books published by DC Comics. He has three versions of himself featured in the Macy's Thanksgiving Day Parade. The first version appeared in the 1940 parade and was redesigned into a Football Player for the 1941 Parade. The second version appeared in 1966 to around 1969,which was the same as the original, but with a more modern look to it. The third version appeared in 1980 and appeared right up until it retired in 1987. The 3rd version is the second largest balloon in the parade's history, at over 104ft long.
Incidents
In 1966,his right arm was damaged by a tree
In 1985, he wasn't seen in the parade due to being damaged by heavy rain.
In 1986, his right hand was ripped off by a Central Park tree which caused his arm to deflate.