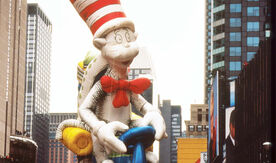 The Cat in the Hat
is a character from Dr. Seuss' 1957 book of the same name, its 1958 sequel, and many others. The Cat himself debuted in the parade as a balloon in 1994 along with
Barney the Dinosaur
, and appeared until 1997 due to a accident.
1995
The Cat in the Hat was the holiday ambassador for Macy's that year, and was the last character balloon that year. A walk around Cat in the Hat Appeared on the Santaland Express at the beginning of the parade.
Incident
In 1997, 45 mph. winds struck the parade route. Barney and the Pink Panther were stabbed by the NYPD when they were tossed around by gusts of wind. The Cat, however, was not able to stand these winds, and his hat knocked the top half of a lamppost onto four spectators, one of them completely injured. The spectator, Kathleen Coranna, sued both Macy's and the lamppost manufacturer four years later. As a result, 1998 marked the debut of new rules saying that 23 mph. winds and 34 mph. gusts would not make the balloons fly.
Ad blocker interference detected!
Wikia is a free-to-use site that makes money from advertising. We have a modified experience for viewers using ad blockers

Wikia is not accessible if you've made further modifications. Remove the custom ad blocker rule(s) and the page will load as expected.