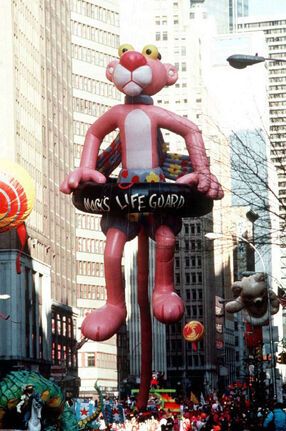 The Pink Panther is a fictional animated character who appears in the opening and closing credit sequences in all but two of the films in the Pink Panther series. He does not appear in any of the storylines of the films proper, instead being a humorous translation of the name "Pink Panther" that was used for the valuable pink diamond that is stolen during the events of the first film. The character reappeared in a spin-off franchise of theatrical cartoon shorts, a comic book, and television series.
Appearance
He first appeared in the parade in 1988, and was lead by a walkaround Pink Panther and one of the character's creators, Friz Freleng. In the 1991 and 1992 parades, the Pink Panther danced with an acting troupe called "The Detectives." The character continued to appear in the parade until 1997, after which new size rules prevented him from making any future reappearances. However, the walkaround Pink Panther returned in 2011 on the "85th Parade Superstars" float, along with other characters who had balloons that had been retired.
Incidents
Since this character balloon was one of the tallest in the parade's history, he did have his share of incidents. In 1989, the balloon was punctured which caused his tail to deflate, and was punctured further when it missed a traffic signal and crashed straight into a sign. In 1995, the balloon's stomach was ripped apart, meaning the balloon had to finish lower than usual. In 1997, his last year in the parade, the balloon was stabbed by the NYPD after going out of control due to the high winds; unlike the Cat in the Hat balloon, the Panther did not cause any injury.
Music
"The Pink Panther Theme" by Henry Mancini (Marching Band Arrangement)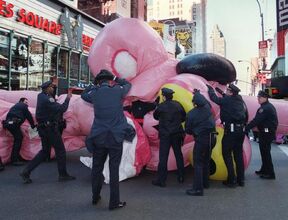 Ad blocker interference detected!
Wikia is a free-to-use site that makes money from advertising. We have a modified experience for viewers using ad blockers

Wikia is not accessible if you've made further modifications. Remove the custom ad blocker rule(s) and the page will load as expected.