Thomas the Tank Engine is a fictional tank engine in the book series titled The Railway Series written by the Reverend Wilbert Awdry and later by his son, Christopher Awdry. Thomas became one of the most popular characters in the book series and is the main character in the television spin-off series, Thomas & Friends.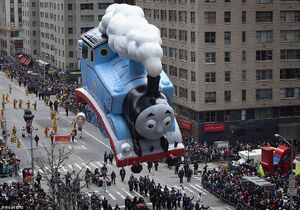 Thomas' first appearance in the parade was in the 2014 Macy's Thanksgiving Day Parade as a balloon. Thomas was 1 of the 6 New Balloons in 2014, and led the parade of that year. Thomas was the first balloon in 2014, and he was became tenth behind Red in 2015, and he was in second behind Charlie Brown in 2016.
Balloon
88th (November 27, 2014)
89th (November 26, 2015)
90th (November 24, 2016)
91st (November 23, 2017) (Coming Soon)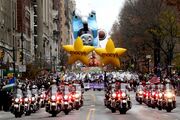 Ad blocker interference detected!
Wikia is a free-to-use site that makes money from advertising. We have a modified experience for viewers using ad blockers

Wikia is not accessible if you've made further modifications. Remove the custom ad blocker rule(s) and the page will load as expected.