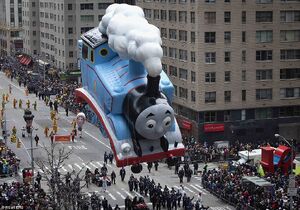 Thomas the Tank Engine is a fictional character in The Railway Series, children's books by the Reverend Wilbert Awdry and his son Christopher. He is an anthropomorphic steam locomotive, modeled after Lawson Billinton's E2 Class tank engines, who lives on the Island of Sodor with many locomotive friends and has his own personal branch line. Thomas' popularity throughout the world was further increased by his appearance as the star of a famed TV series adapted from his books by Britt Allcroft.
Thomas was in three Macy's Thanksgiving Day Parades as a balloon. He debuted in 2014 as the first balloon in that year's lineup, and returned in 2015 and 2016, in which years he came in tenth and second respectively.
Balloon
88th (November 27, 2014)
89th (November 26, 2015)
90th (November 24, 2016)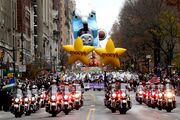 Ad blocker interference detected!
Wikia is a free-to-use site that makes money from advertising. We have a modified experience for viewers using ad blockers

Wikia is not accessible if you've made further modifications. Remove the custom ad blocker rule(s) and the page will load as expected.