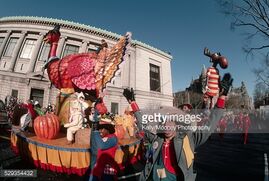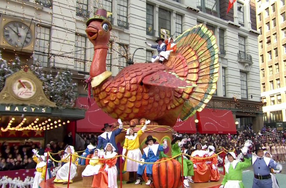 Tom Turkey is the oldest, most recurring, and most famous float in the Macy's Thanksgiving Day Parade. He is an animatronic Thanksgiving turkey who has two people dressed as pilgrims riding on top of him, and is also surrounded by actors dressed as pilgrims.
Tom Turkey was introduced to the parade in 1971; his current, bigger version first appeared in 1993. He has appeared in every parade since his debut, except the 77th (in 2003), when he took a "Thanksgiving Off" and was replaced by Macy's "Gorgeous Gobbler" novelty balloon. He generally leads the parade, bookending the spectacle together with Santa Claus, whose arrival into Herald Square traditionally ends the event. In recent years, the Tom Turkey float has been sponsored by the E. W. Scripps Company.
Ad blocker interference detected!
Wikia is a free-to-use site that makes money from advertising. We have a modified experience for viewers using ad blockers

Wikia is not accessible if you've made further modifications. Remove the custom ad blocker rule(s) and the page will load as expected.