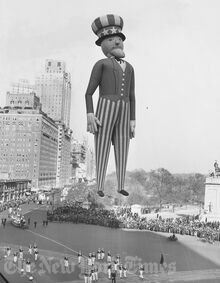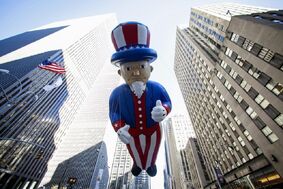 Uncle Sam (initials U.S.) is a common national personification of the American government or the United States in general that, according to legend, came into use during the War of 1812 and was supposedly named for Samuel Wilson. The actual origin is obscure. Since the early 19th century, Uncle Sam has been a popular symbol of the US government in American culture and a manifestation of patriotic emotion. While the figure of Uncle Sam represents specifically the government, the goddess Columbia represents the United States as a nation. He made his balloon debut in the Macy's Thanksgiving Day Parade in 1938.
Appearance
His first appearance was in 1938 and appeared until 1940. A re-creation debuted in 2002 and retired in 2013. He also appeared in the Macy's Holiday Parade. The balloon now Resides at Universal for the Holiday Parade.
Incidents
In 2012, His arms were deflated during the parade, much like with many other balloons that weren't inflated very well.
In a 2006 edition of the Macy's Holiday Parade, Uncle Sam's hat was punctured by a tree & was removed from the parade.
Ad blocker interference detected!
Wikia is a free-to-use site that makes money from advertising. We have a modified experience for viewers using ad blockers

Wikia is not accessible if you've made further modifications. Remove the custom ad blocker rule(s) and the page will load as expected.