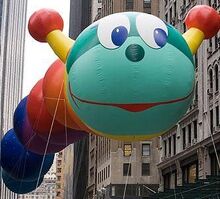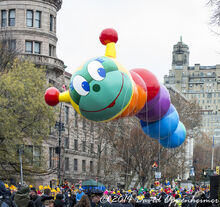 Wiggle Worm is a Macy's Thanksgiving Day Parade novelty balloon who first appeared in the parade in 1993 and retired in 1996. This novelty balloon returned in 2004 with a new look and also appeared between 2010 and 2012. she returned 2014 and appeared ever since. The novelty balloon also appears in the Macy's Holiday Parade in Universal Studios Florida since 2014.
Balloon
Original Wiggle Worm (1993 - 1996)
Updated Wiggle Worm (2004-2005; 2010, 2012, 2014-2016)
Incidents
In 2010, Wiggle Worm was punctured by a One way sign when the handlers tried to make the balloon spin.
Ad blocker interference detected!
Wikia is a free-to-use site that makes money from advertising. We have a modified experience for viewers using ad blockers

Wikia is not accessible if you've made further modifications. Remove the custom ad blocker rule(s) and the page will load as expected.