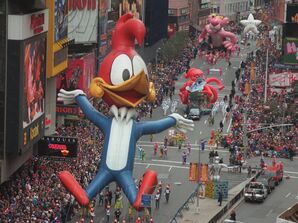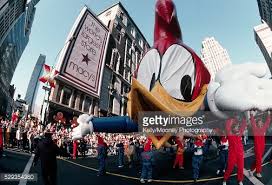 Woody Woodpecker is a funny animal character created by animator Walter Lantz for short films distributed by Universal Pictures. He is one of the most indicative of the "screwball" type of cartoon character that became popular in the 1940s. He continued to appear in theatrical shorts until 1972, longer than most other characters from the Golden Age of animation.
Appearance
Woody Woodpecker first appeared in the Macy's Parade in 1982. He was behind the Frozen Woodland float in 1982 and he was the last balloon in 1985. He made his final appearance in 1996, where his left hand was torn off by a tree.
Woody Woodpecker (1982-1996)
Incidents
In 1982, Woody Woodpecker had a Stomach Ripped by a tree.
1985 Woody Woodpecker had his legs ripped by a tree
In 1986 Woody Woodpecker's head was sorta ripped by a lamppost and his legs were also ripped by a tree
In 1993, Woody Woodpecker had a Stomach Ripped by a tree Again.
In 1996, Woody Woodpecker Hands was torn off by a tree.
Ad blocker interference detected!
Wikia is a free-to-use site that makes money from advertising. We have a modified experience for viewers using ad blockers

Wikia is not accessible if you've made further modifications. Remove the custom ad blocker rule(s) and the page will load as expected.